Having broken ground for India's first toy manufacturing cluster at Koppal in Karnataka state, Aequs is set to change the toy manufacturing landscape in India.
The Business of Toys
India accounts for a mere one percent of the global toy market that was valued at $80 billion in 2021. The demand for toys in India is put at $1 billion, but 60% of this requirement is met through imports, largely from China. On the exports front, India logged $130 million in 2019-20, mostly to the USA and UK.
The numbers may be meagre, but it highlights the exponential growth potential in the sector. Add to that the huge global opportunity, which is expected to grow at an impressive clip in the coming years, and one can imagine the stakes. But with China ruling the roost in both the global and domestic toy business, the game is tough for manufacturers seeking to make a dent. Scale, skill, and supplies hold the key to the global markets. But few Indian players have all three in abundance to emerge global players.
Enter Aequs, which has kicked off one of the most ambitious projects to put India on the global toy-making map with the country's first Toy Manufacturing Cluster – a vertically integrated ecosystem spanning the entire value chain needed for making world-class toys.
Partnering the 'Aatmanirbhar Bharat'
Supporting the government's vision of an 'Aatmanirbhar Bharat', Aequs, with its decade long experience and success in running the Belagavi SEZ, has broken ground for the Koppal Toy Cluster (KTC) in Karnataka, India, that is expected to house upwards of 100 manufacturing units when complete.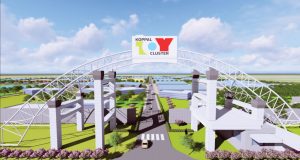 The cluster is a mission to spread happiness and create memories for children, not just in India but also across the world, said Aravind Melligeri, Chairman & CEO, Aequs, speaking at the ground-breaking event.  The company had already stitched together six strategic MOUs with potential occupants with a revenue potential of over $450 million over the next five years.
The cluster is projected to generate over 25,000 direct jobs, in addition to 100,000 lakh indirect jobs, over a decade. It is poised to facilitate transformation in the region across areas of transport, health, hospitality, education, housing, among others. In addition, the cluster will house an SEZ for exports apart from a Domestic Tariff Area to tap the Indian market – an ideal mix for local manufacturers and overseas participants to make their presence felt in both the markets.
A Jewel in the Crown
Aequs' manufacturing prowess and capabilities across aerospace, toys and consumer durable goods truly bring alive India's potential to cater globally with the utmost commitment to innovation, timely delivery, and quality.
Riding on years of partnering with international brands in toys & baby care products and developing and manufacturing a variety of children's products for the global market, Aequs has already built a name for itself in toy manufacturing, making a name for itself with a focus on safety, innovation, and time to market, which have emerged its core strengths.
Not surprisingly, multiple marquee toy brands and suppliers are lining up to be a part of the ecosystem in Koppal.