At Aequs, as a part of corporate social responsibility, we commit to deploy our resources and encourage active community participation towards bringing a positive change in the society.
We established Aequs Foundation in 2016, with a vision to bring positive and sustainable changes in its neighbouring communities. The foundation has instituted several interventions which focus on STEM education (Science, Technology, Engineering and Mathematics), Health and Hygiene, and Safety for students and teachers in the local communities. Aligning with the company's strategic goals, Aequs Foundation has adopted a systematic approach while designing its projects, to drive an amplified impact on the society that are measurable and sustainable. This approach is founded on three pillars:
A project-based approach, wherein each project is strategically aligned to the company's overall goals. This is achieved by setting milestones, which are periodically measured and monitored.
Harmony of projects is essential to affect a multidimensional and amplified impact. With this in mind, we strive to achieve complete synchronicity between each of our projects. For instance, the undertaking of constructing toilet blocks for schools is further complemented by our health and hygiene awareness and education programs.
Long-term sustainability is critical for any program to have a lasting impact. Programs with short term impact are akin to placing a band-aid on a deep wound.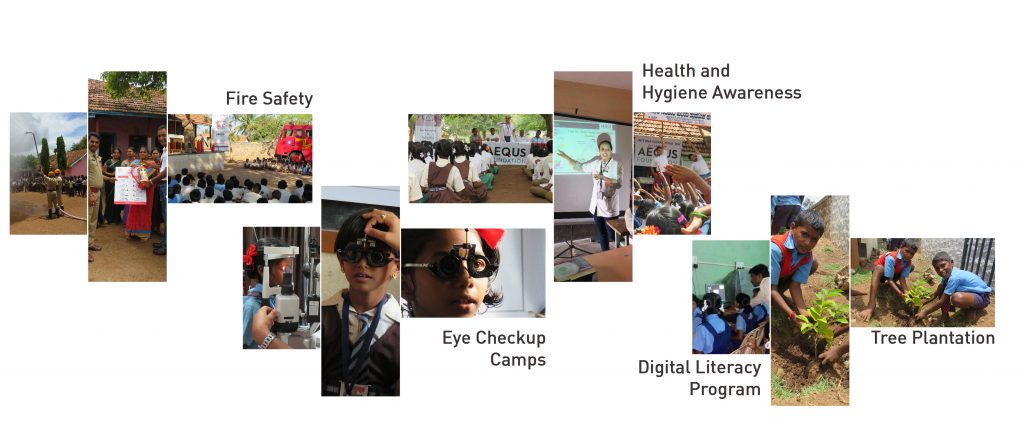 Aequs Foundation's holistic approach to corporate social responsibility covers a broad spectrum of areas in Education, Health & Hygiene, and Safety, benefitting the socio-economically disadvantaged sections of the society.
Health and Hygiene Program
The program focusses on providing infrastructural support and creating awareness in government schools in Belagavi concerning hygiene and sanitation. With that in mind, Aequs has undertaken multiple projects under Nirmal Shale Hygiene Program and the Spandana Health Program.
The Nirmal Shale Health Program aims to create better health and hygiene infrastructure on the one hand, while simultaneously encouraging behavioural and attitudinal changes towards health and hygiene practices among students and teachers. Our programs focus on forging fruitful collaborations with other organizations such as the Rotary Club of Belgaum, thereby creating a deeper impact.
The Spandana Health Program provides free comprehensive health assessments, eye check-ups and dental check-ups for students at government schools in Belagavi. Through this program, we aim to assess and set up a baseline, helping us to arrive at appropriate medical interventions, thereby improving not only the overall health of the students but ultimately impacting their day-to-day learnings as well.
Education Program
The education program focuses on encouraging students towards STEM education, training in soft skills and career orientation, environmental education, and more. Some of the key initiatives include the STEM Literacy Program, Teachers' Training Program, Ignite Program, Student Excel Program, After School Program, among others.
We cover a broad range of educational and developmental activities, impacting students across varying levels of education. Our 10K sq. ft. Anasuya Melligeri Science and Technology Center at Hubli is intended to provide hands-on science training to students in the area. In Belagavi, we are running two Mobile Science Laboratories which not only enable hands-on learning of STEM education for students but also aids in Teacher Training Programs, organizing Science Fairs and Digital Learning.
Under STEM Education Training, we organize teachers training workshops focused on the best teaching practices and the latest activity-based teaching methodologies, which are aimed to maximize the potential of students.
Ignite program is tailored towards career orientation, self-development, the cultivation of soft skills and personality development among students. As part of this, we periodically organize college and industry visits for students. In the same regard, we had facilitated an industry visit for Deshpande Foundation's Lead Prayana at Aequs SEZ.
The After-School Program provides training after school hours to children. Recently, we added two more centres under this program, increasing the tally of centres to four.
'Grow Green Program' aims at providing environmental education to students thereby driving the eco-friendly practices in schools. To further this cause, we also organized Tree Plantation drives and established a Rainwater Harvesting System. Beneficiary Details.
Safety Program
Aequs' safety awareness program aims at providing first aid training to teachers, thereby enhancing the safety practices at schools. Additionally, teachers are equipped with first aid kits to be better prepared for safety requirements.
To date, Aequs Foundation has touched the lives of over 12,500 students across 83 schools, 69 villages with activity exposures of more than 281,178 in Education, 22,445 in Health and Hygiene and 1,506 in Safety. Our commitment and passion for uplifting the lives of the people in and around our manufacturing facilities have been instrumental in driving grassroot changes in the attitude and thinking towards education (STEM), health and hygiene, and safety.
We affirm to steadfastly stay on this course and continue our efforts to positively impact and empower young lives.