The year 2020 was marked with extreme challenges and turbulence in every aspect of our lives. While the economic ramifications of the outbreak of the Covid-19 pandemic have been severe worldwide, but it also has given organizations a precious gift of pause, which have in turn opened doors for them to reassess and realign their strategies to develop renewed strength and resilience in the face of adversity.
To boost the Indian economy, as a measure of which, the GoI announced several incentives and initiatives. However, the underlying principle for driving economic revival has been the vision of making India' self-reliant' or Aatmanirbhar. In an episode of 'Mann ki Baat', the Hon'ble Prime Minister Narendra Modi called out that India will be focusing on indigenizing the toy manufacturing industry which will position the nation as the premier destination for global toy manufacturing.
The global toy industry is worth $100 billion, out of which 60% comes from China. India's toy industry accounts for less than 1% of the global market and approximately 25% of the Indian market. Moreover, Indian manufacturers cater to only 15% of the domestic demand and do not make high-end, advanced electronic products that necessitate significant investment and an R&D focus. The rest of the industry is dominated by toys manufactured in China. At this juncture, India is a lucrative market with the potential for this venture to thrive, owing to its demographic dividend, labour costs, and power tariff advantage, to name a few.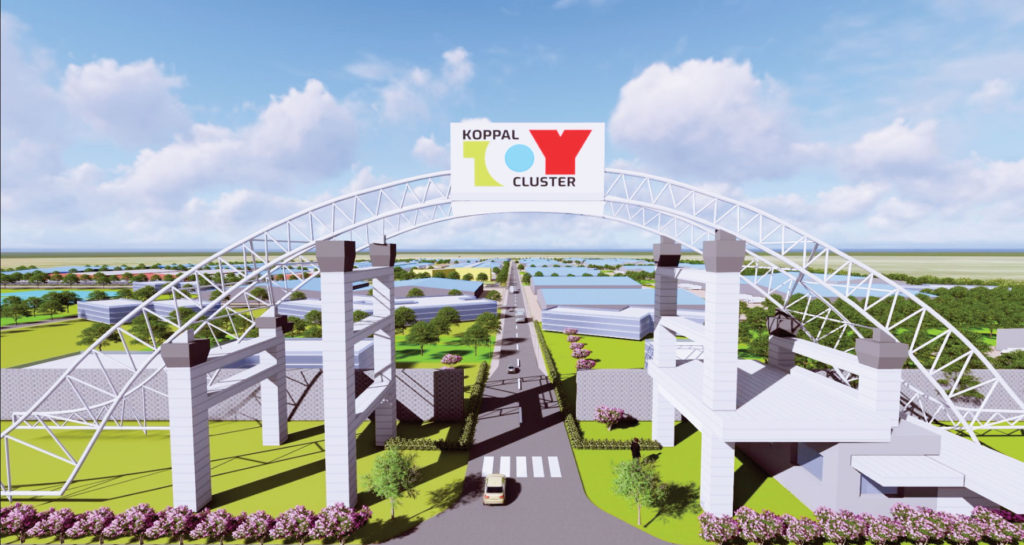 In alignment with the Prime Minister's clarion call for a self-reliant or Aatmanirbhar India in the field of toy manufacturing, Aequs is developing and building India's first toy cluster spread over 400 acres in Koppal, Karnataka. The Koppal Toy Cluster will be a one-stop-destination facilitating globally competitive and reliable manufacturing solutions with co-located facilities. It will be an internationally competitive, self-sustained ecosystem catering to all infrastructure requirements of the toy industry and will house advanced facilities for design, moulding, die-casting, painting, PCBA, printing and packaging, among others. This cluster is poised to re-shape the future of North Karnataka.
Karnataka boasts of a rich heritage in toy manufacturing and offers world-class machine tools infrastructure and favourable labour laws for toy manufacturers in the state. According to official estimates, Karnataka is the third-largest toy market in India with a value of $159 million, 9% of the national market. Growing at a CAGR of 18% from 2010 to 2017, the state's toy market is projected to touch $310 million by 2023. The Koppal Toy cluster will benefit from a myriad of advantages emerging from its strategic location, with access to major highways, ports, airports and major cities, thereby providing an efficient network of connectivity.
Like any other industry, the toy manufacturing industry is not without challenges. This industry requires a high level of qualitative, technical and aesthetic know-how, and yet there exists a significant skill gap in India. Aequs, in collaboration with the Government of Koppal, has laid down robust plans to address the skill gap and institute the necessary training programs in this regard.
The plans for the Koppal Toy Cluster was made public in a webinar organized by the Karnataka State government on 'Establishing India as a Global Toy Manufacturing Hub' – Global Prospects & Karnataka Opportunities', wherein the state government opened the floor for deliberations on India's potential for becoming a global toy manufacturing hub. This was attended by key government officials and industry members, of which Aequs was a part. The government has since been enthusiastically inviting domestic and foreign investors to help bring this vision to life.
The state hopes to attract an investment of nearly Rs 5,000 crores at the toy cluster, which is expected to generate over 1 lakh direct and indirect jobs. Besides supporting and delivering on the nation's mission of 'vocal for local', the objective of this cluster is to increase the share of manufacturing in the state GDP, develop avant-garde infrastructure, provide need-based skill development assistance, and bring about a balance in the socio-economic development of the region. The Koppal Toy Cluster will serve as a stimulus to the local economy by way of a support system creating an equal no of jobs in transport, health, hospitality, education and housing.
With the establishment of the Koppal Toy Cluster, Aequs is now scripting India's growth story and catapulting the country's toy manufacturing industry to the next level.