The Industrial Knowledge Centre (IKC), is a unique in-house training institution that Aequs set up some years back to address its need for industry-ready manpower. It is now emerging into a unique cross-vertical training platform that encompasses the Skill Development Centre (SDC).
Prashant Patil is convinced he has discovered his true calling after he got picked up for a short course in painting toys at the Aequs Skill Development Centre (SDC). Unlike a hobby painting course, the programme he is going through will lead to a full-time career in manufacturing toys for global customers.
A graduate in humanities the 22-year-old was surprised by how much he liked it. "I believe this course has unlocked my potential. I was unaware of how much I would enjoy painting toys. It has boosted my confidence, and I know what I want to do in life now," he said.
The story of 24 years old Shashank Saravan is no different. The mechanical engineer from Belagavi is excited about becoming a full-fledged Aerospace engineer after a two-year on-the-job training at the Industrial Knowledge Centre (IKC) at the Belagavi Aerospace Cluster (BAC).
Had it not been for the training at the IKC, he may have ended up in a sales job deviating from his original intent as there were several offers. "I had several offers, but I knew I would not be happy. I am extremely lucky to get trained at the IKC and into a job that is aligned to what I studied," Shashank who is now a part of the Aerospace Production Planning and Control (PPC) department at Aequs, said.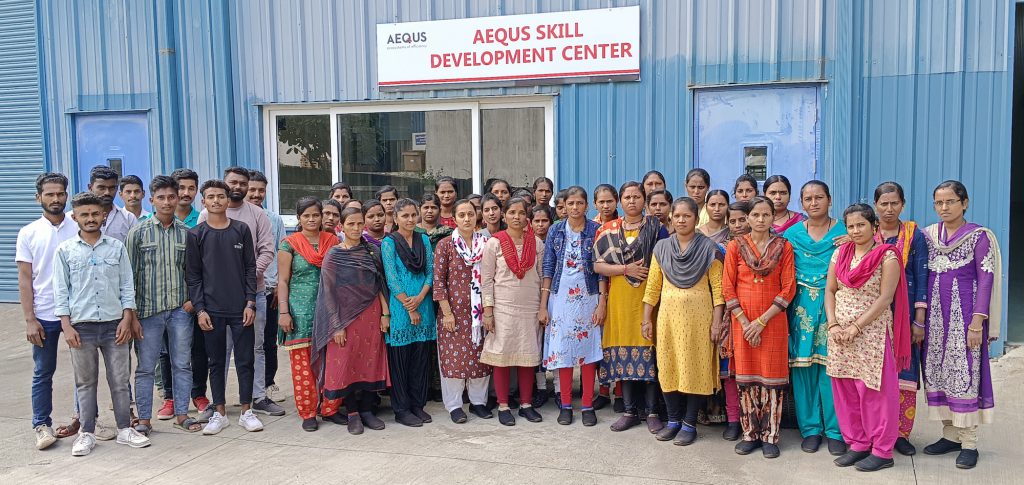 Aerospace to Toys – Giving Wings to Dreams
The experience of 800 young Aerospace engineers, trained at the IKC, and three hundred others at the SDC, currently undergoing skills upgrade for toy manufacturing, is similar.
IKC, the in-house training centre at Aequs which meets the unique requirements of the company for trained manpower across diverse sectors, has emerged into a functional skilling ecosystem. It bridges the knowledge gap and makes fresh trainees industry ready.
"With the success of the SDC at Koppal and Belagavi, we are now in the process of kicking off the SDC at Hubbali to cater to the requirements of the Hubballi Durable Goods Cluster (HDC)," said Vishal Kulkarni, General Manager, IKC. About 100 recruits will be trained by March 2023 at the new centre, he added.
The SDC at Bhanapur, Koppal where Aequs has set up India's first toy manufacturing cluster, is also the first of its kind in India for the toy industry. Built on a model of industry-academia collaboration model for specific skills, and capabilities, it is equipped with the latest and best technologies needed by the industry. Going forward it will be seeking the Government's support to provide CIPET equivalent certification for some of the courses, he said.
The training ecosystem at Aequs is thus a unique mechanism that is leaving no stone unturned to ensure the right kind of talent and workforce pipeline is ensured for its operating units.