Focused on innovation and rapid prototyping for Toys and Consumer Durable Goods.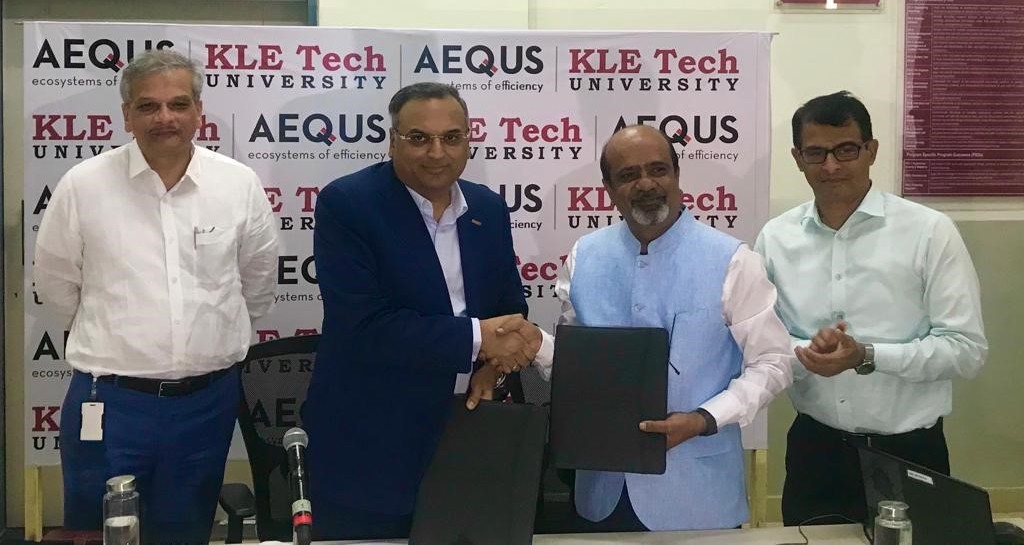 Belagavi, Karnataka, November 14, 2022
Hubballi, November 21, 2022: Diversified contract manufacturer, Aequs and KLE Technological University (KLE Tech.), have come together to establish the Aequs Innovation Centre (AIC), to develop innovative products for the Toys and Consumer Durable Goods markets.
"AIC will function as an innovation ecosystem and incubation platform for accelerated product development while leveraging the joint capabilities and infrastructure of Aequs and KLE. The objective is to speed up the idea-to-prototype journey for these emerging industries in India's manufacturing journey," said Aravind Melligeri, Chairman & CEO, Aequs, during the launch event here today.
"The AIC seeks to ease a long-felt pain of enterprises, particularly in the hinterland, which face challenges in developing products from scratch with limited expertise and resources," he added.
"This new industry-academia initiative will harness unconstrained minds of young engineers and academia. The Aequs Innovation Centre is in line with KLE Tech's belief that institutions of higher education need to continually innovate to meet the demand of global economies by developing their capacity in research and development," said Dr Ashok Shettar, Vice Chancellor, KLE Technological University.
To be housed at the Industry 4.0 Lab being built by KLE Tech University, the AIC will leverage Aequs' expertise for training engineers in cutting-edge technologies and product design & development and benchmarking processes.
The AIC will provide direct employment to one hundred plus engineers and students in the first five years.
About Aequs
Aequs is a diversified contract manufacturing company providing vertically integrated product solutions across the Aerospace, Toys and Consumer Durable Goods industries. By leveraging its manufacturing ecosystems, Aequs reliably delivers supply chain efficiencies to its global customer base. Aequs currently operates manufacturing facilities across India, France, and the United States.
About KLE Technological University
KLE Technological University (KLE Tech) has its roots in B. V. Bhoomaraddi College of Engineering and Technology, Hubli (BVB), one of the premier engineering institutions of Karnataka. The founding organization KLE Society, Belgaum, established BVB college in 1947 with an aspiration of creating an institution that would lay the foundation of modern engineering education in northern region of Karnataka.
Contact:
C Chitti Pantulu
Vice President, Marketing & Communication
Mob: +917795690653
Email: chitti.pantulu@aequs.com
B.B. Kotturshettar
Head of Department
School of Mechanical Engineering, KLE Tech.
Mob: +919243282898
Email: bbkshettar@kletech.ac.in