Over 200 students from 62 schools participate in Belagavi leg of the annual science fair organized by Aequs Foundation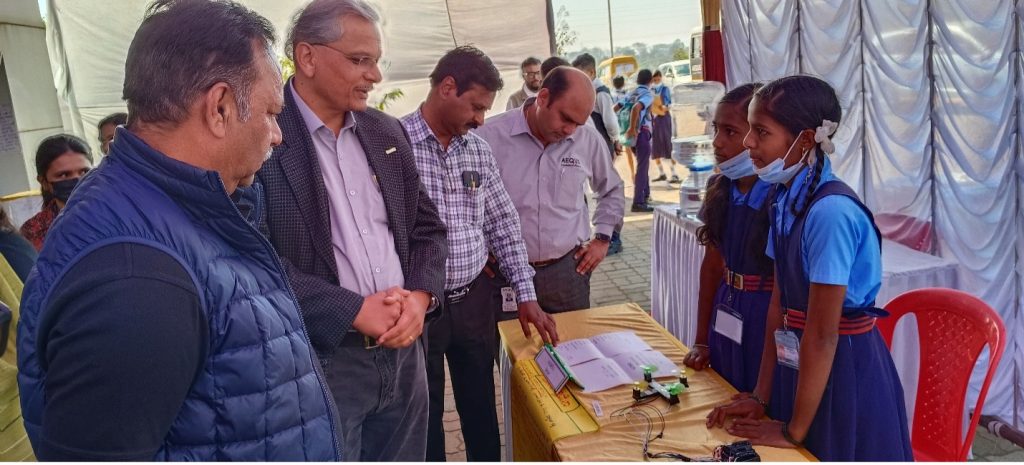 Belagavi, Jan 10, 2023:
Aequs Foundation kicked off a three-day Science Fair and Competition "Avishkar 2023" at the Aequs SEZ, Hattaragi, with participation from students of 62 schools with whom it is engaged with.
Taking place from January 10-12th, Avishkar is aimed at providing a common platform for students to exhibit their innovative ideas and learn from various science enthusiasts.
Dr Ravi Guttal, CTO and Senior Vice President, Aequs, Lt. Gen. Nagesh Rao, Vice President Aequs, Sri Mohan Dandin, Block Education officer, Hukkeri, Dr Praveenkumar Naik, Asst. Vice President, Aequs , Basavant Patil, Vice President, IT/IS and Dr Babitha M P, Senior Manager, Agastya International Foundation, Hubli inaugurated the event.
Over 200 students from 62 schools were selected to display various science models at the Fair. Avishkar includes a section for projects by science teachers apart from a student's quiz competition.
"Thinking of success should be a part of every student's DNA and they should start visualizing this at an early age, this success mantra will build confidence in them and strengthen their values," said Dr Ravi Guttal, CTO & Senior Vice President, Aequs addressing the participants.
The Mobile Science Lab Project, run in collaboration with the Agastya International Foundation, is one such initiative where over 4000 students receive access to education in the STEM fields every year.
"This is a great opportunity for students to understand the importance of science and its application in real-life situations helping them develop a scientific temper through experiential learning, which is the core objective of the initiatives taken up by Aequs Foundation," Nagesh Rao, Vice President Aequs.
About Aequs Foundation:
Aequs Foundation is committed to improving the lives of children in communities around the SEZ in Belagavi and other manufacturing ecosystems run by Aequs. We nurture these young, bright minds and act as a catalyst in their development and invest in innovative STEM education programs. As a part of this, we have launched a science center, mobile science labs, digital labs, digital learning systems, after-school classes, career orientation programmes and school fairs. Besides actively contributing to the infrastructure and academic curriculum in government schools, the Foundation is working to spread awareness on health, hygiene, and safety through its campaigns. We have successfully managed to shape the lives of over 27,000 plus students in 150-plus schools and villages across from Belagavi, Hubballi and Koppal regions of Karnataka. Aequs Foundation will continue to positively impact the community by improving lives and inspiring students to follow their passion in the field of education.
About Aequs
Aequs is a diversified manufacturing platform providing vertically integrated product solutions across the Aerospace, Toys and Consumer Durable Goods industries. By leveraging its manufacturing ecosystems, Aequs reliably delivers supply chain efficiencies to its global customer base. Aequs currently operates manufacturing facilities across India, France, and the United States.
Contact:
C Chitti Pantulu
Vice President, Marketing & Communication
Mob: +917795690653
Email: chitti.pantulu@aequs.com