At Aequs, we constantly endeavour to positively impact the environment and our immediate surroundings. We are mindful of environmental sustainability and have been diligently reviewing, reassessing, and improving the sustainability quotient at all levels of our operations and processes. In view of this, we have in place a number of initiatives for water conservation, sewage treatment, waste management, among others, to help preserve and improve the quality of our surroundings both in and around our campus at the Special Economic Zone (SEZ).
Our 250+ acre campus in Belagavi adheres to all the environment regulations and takes immense care to always keep it clean and green. On 5th November 2020, Aequs introduced 'Cycle the Campus' – yet another initiative to enhance environmental sustainability. This was flagged off in the esteemed presence of Mr. Thierry CLOUTET and other representatives from Airbus, along with Mr. Rajeev Kaul, MD & CEO Aequs Aerospace.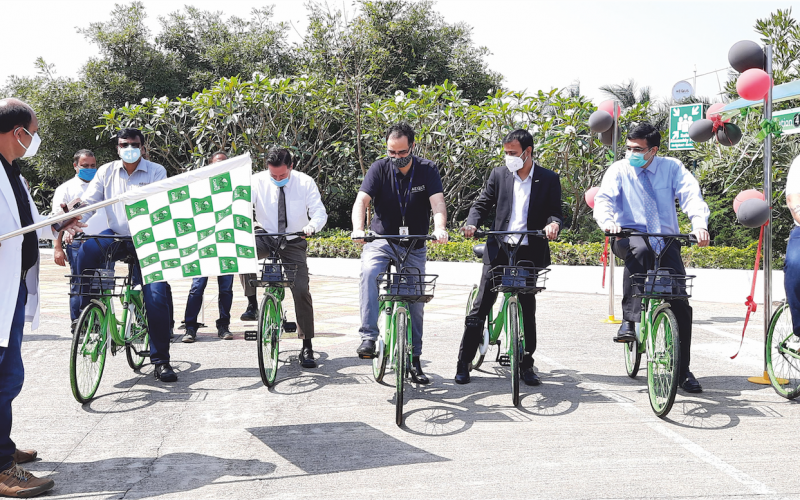 Over the years, we have achieved a delicate balance between our green cover and manufacturing facilities at the SEZ, making it one of the finest campuses. 'Cycle the Campus' is set to contribute immensely towards preserving this pristine balance while simultaneously facilitating a healthier lifestyle among our employees. This initiative is an extension of the company's 'Green Campus-Clean Campus' initiative, promoting eco-friendly practices within the campus. While reinforcing our commitment towards the climate and efforts to reduce our overall carbon footprint and vehicular emissions, this initiative also enables our employees to commute with ease across our lush green campus on bicycles.
These unisex bicycles are fitted with a robust frame and airless tires to ensure a safe and smooth ride. They are GPS enabled and equipped with a fully automated smart lock mechanism that can be unlocked through the ZYPP app. Parked at docking stations located at strategic junctions across the campus, the bikes can be accessed via scanning a QR code on the locks to start a ride.
Taking cognizance of the current circumstances and the outbreak of a global pandemic, we have also taken utmost care to ensure that safety and sanitation protocols are always followed. Our employees form the foundation of our organization, and their well-being is of paramount importance to us. 'Cycle the Campus' provides the employees with a green mode of commuting within the campus, promoting a healthier and pollution-free lifestyle.